Breastfeeding Basics: Part 2
August 22, 2016 by Tammy Howell
---
Key Takeaways
What?
So What?
Now What?
---
By Anna Singleton, IBCLC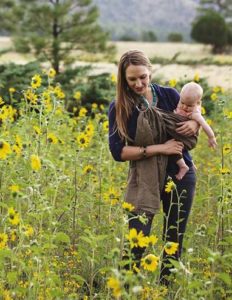 North Country HealthCare has board certified lactation consultants on staff to help you and your baby in the breastfeeding journey. We understand returning to work after having a baby can be a stressful time for women as they learn to juggle their time in the office and time with their baby. Not only is it difficult to maintain a schedule that works for everyone, it can also be especially challenging for women who are breastfeeding and who plan to pump while at work.
Many moms have a hard time knowing how often to pump in order to provide the amount of milk needed for baby because the answer is individualized to each woman and depends on her milk storage capacity. The single most important factor in determining milk production is the number of milk removals per day, so in order to maintain her milk supply while separated from baby, a woman needs to pump as often as breastfeeding occurs when she is with her infant. Some women are able to store a large quantity of milk, meaning they can pump less often, whereas other women with a smaller storage capacity have to pump more frequently in order to get the same amount of milk. On average babies drink three to four ounces per feeding between one and six months of age; after solid foods are started around six months, a woman's milk supply may drop slightly as her baby may not need as much milk.
It is important to have a good breast pump when returning to work, and many insurance plans are required to provide them to nursing mothers. Women can contact their insurance company to find out what is provided by their plan. The type of pump required depends largely on whether a woman is exclusively pumping or breastfeeding and pumping. A hospital-grade pump should be used if a woman is exclusively pumping, and a personal-use double electric pump should be used if a woman is also breastfeeding. Pumps should be set to the highest level that is comfortable, meaning women should not be in pain while pumping. The size of the flange, the pump part that covers the breast, should fit so that space is seen around the nipple as it is pulled into the tunnel. If the nipple is rubbing along the sides or too much breast is being pulled into the tunnel, that is a sign that the flange is either too small or too big, and will cause pain to the nipple and slow milk flow. Women can get more milk while pumping if they use their hands to massage and compress the breasts while pumping both breasts at the same time (this will require having a hands-free pumping bra or other hands-free device). When the milk flow stops and only drips are coming out, the pumping session is finished. The average amount of milk expressed for a full feeding is as follows:
| | |
| --- | --- |
| Baby's age | Average amount expressed |
| 3 days | 1 oz. |
| 1 week | 1.5 oz. |
| 2-4 weeks | 2-3 oz. |
| 1-6 months | 3-4 oz. |
It is also important to know the laws surrounding breastfeeding and returning to work. The Fair Labor Standards Act (FLSA) requires most employers to provide a reasonable amount of time to express breast milk for a breastfeeding child under the age of one. The law also requires that employers provide a space to pump that is not a bathroom. Breaks to pump are not required to be paid breaks, but if the employer offers paid breaks to other employees, women are allowed to use the paid breaks during their pumping sessions. Women who know their breastfeeding rights when returning to work are better prepared for the transition that occurs (A Better Balance, 2011; United States Breastfeeding Committee, 2016).
While there is much a working mother can do to ensure prolonged breastfeeding, it is equally important how caregivers feed the baby while mom is away. A technique called "paced bottle-feeding" can be utilized to help mimic breastfeeding, and thus reduce confusion for the infant as they go back and forth between breastfeeding and bottle-feeding. Whenever possible it is best to wait until the baby is three weeks old to introduce a bottle. When a bottle is introduced, paced bottle-feeding attempts to help mimic a mother's let down by having the milk flow and then slow down. Paced bottle-feeding requires a slow flow nipple. Hold baby in a semi-upright or upright position, hold the bottle horizontally (tipping it downward as needed in order to feed baby), build in pauses every few minutes and lower the bottle so the flow of milk stops in order to help the baby recognize their fullness cues. Bottle-feedings should take 15-30 minutes. With practice, babies will learn to pace themselves. Caregivers should pay attention to babies' cues rather than follow a strict schedule, and when baby stops swallowing milk, do not force the baby to finish a bottle.
Despite the various obstacles that can arise when returning to work, it is possible to continue breastfeeding. For some women, it may take more effort to plan out than others. North Country's lactation consultants aim to provide a place for women and babies to come and receive the education and support needed to make the healthiest decision possible that fits the needs of both mom and baby. Call North Country HealthCare at 928.522.9400 to schedule a prenatal or postpartum consult with an International Board Certified Lactation Consultant on staff.
Anna Singleton is an International Board Certified Lactation Consultant. She is also a mother, and was previously a Community Health Worker at North Country HealthCare's Health Start Program, a free neighborhood outreach program that works with pregnant women, new mothers and their families.