Lactation & Chest/Breastfeeding Support Services
At North Country HealthCare, we strive to provide the best and most comprehensive care for babies and their families. Breastfeeding (also known as chestfeeding) is one of the most important things a parent can do to give baby the healthiest start in life. However, chest/breastfeeding can often be challenging. At North Country HealthCare, we want to offer everyone who wishes to chest/breastfeed the opportunity to receive quality care and support in order to achieve their breastfeeding goals.
We have a team of health care providers with experience providing lactation support, including an International Board Certified Lactation Consultant (IBCLC). In-person assistance is available at our Flagstaff – 4th Street and Lake Havasu City locations. Telehealth appointments are available at all locations we serve.
Our lactation specialists can help manage a wide variety of chest/breastfeeding issues, such as low supply, pain when feeding, poor weight gain in baby, over supply, pumping, returning to work, weaning, and any other issues that parents and babies face.
How To Schedule an Appointment
Please call the North Country HealthCare location nearest you to set an appointment with a lactation specialist at your convenience. You do not need to be an established patient with a doctor at North Country HealthCare.
Payment
Lactation appointments are billed as a pediatric appointment. Coverage will depend on your insurance plan. If you are uninsured, a sliding fee scale is available.
Our Specialists
Julia Eskuchen, MD, IBCLC

Flagstaff 4th Street
928.522.9400
Read Bio

Kelsey Morgosh, MD, CLC

Flagstaff 4th Street
928.522.9400
Read Bio

Sandra Bronni, MD, CLC

Lake Havasu
928.854.1800
Read Bio
Additional Resources
Lactation Class for New & Expecting Parents
North Country HealthCare is now offering our Lactation Class for New & Expecting Parents! Lactation counselors will introduce you to the benefits of breastfeeding for you and your baby. This class will discuss valuable topics such as:
What to expect when feeding a newborn
The benefits of human milk
Baby's feeding cues and how to tell your baby is getting enough milk
Learn about proper latch and positions for effective feeding
Learn where to get help and support when you need it
Leave feeling more confident about your feeding choice
After the class, you will be able to interact with lactation counselors and get answers to your specific questions and concerns. Click the button below to join the Zoom meeting. We hope to see you in class!
What: Lactation Class for New & Expecting Parents
When: 2nd Thursday of every month, 12 p.m. – 1:30 p.m.
Where: Online Zoom Meeting (Meeting ID: 839 0114 3231)
North Country HealthCare Maternal and Child Health Programs
North Country HealthCare offers several community health programs to assist new parents, including Health Start and HealthySteps. To learn more, email our program manager or call  928.522.9430.
Flagstaff Medical Center
Flagstaff Medical Center has International Board Certified Lactation Consultants (IBCLCs) to offer support while still in the hospital, following you baby's birth. Pump rentals are also available. To learn more, call 928.214.2605.
Anna Singleton, IBCLC
Anna Singleton offers private, in-home lactation support to the Flagstaff community. For more information, visit her website, send an email, or call 520.485.2198. Some insurance plans accepted.
Maya Radoccia-Kennen, BSW, IBCLC
Maya Radoccia-Kennen offers lactation support through her company, High Country Lactation. Some insurance plans are accepted. To learn more, call 928.556.0000 or send an email.
24 Hour Hotline via AZ Department of Health
Get answers to your breastfeeding questions 24 hours a day by calling the Arizona Department of Health Services' 24-Hour Breastfeeding Hotline at 1.800.833.4642.
Navajo Nation Breastfeeding Resource List
A list of breastfeeding resources on the Navajo Nation.
Web Resources
Hand Expression of Breastmilk, by Jane Morton, MD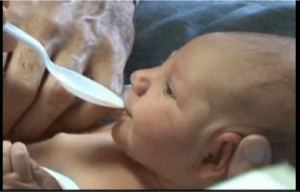 Breastfeeding Position and Latch by SickKidsInteractive