How To Stop Using Tobacco – For Good
November 23, 2022 by Tammy Howell
---
Key Takeaways
What?
November is National Smoking Cessation Month!
So What?
We are sharing helpful information to help you stop using tobacco, for good.
Now What?
North Country HealthCare's behavioral health team can help you quit – read on to learn more!
---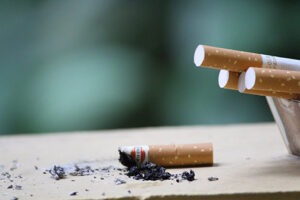 November is National Smoking Cessation Month, and in recognition of that, we are sharing helpful information to help you kick the habit, for good.
Decades of research have shown that quitting tobacco, no matter your age, will lead to a healthier lifestyle. While quitting can make you look and feel better – not to mention save you money – it's still challenging to do. Before you jump in and quit cold turkey, it's best to come up with a plan to build effective strategies to maintain your new healthy lifestyle. Don't know where to start? Start with these tips.
Make a plan and pick a "quit day."
Gather support and tools, which could include nicotine replacement therapy.
Find ways to reduce your stress and cravings.
Avoid slip-ups and stay tobacco-free.
1. Make a plan to quit
Considering quitting tobacco is a big first step! There are probably lots of different reasons behind your decision. It's important to keep those reasons front and center in your mind as you go through the process, especially when things get tough. Try writing your reasons down and placing them somewhere prominent where you'll see them often.
Before starting, develop a plan and decide on a quit day. Before the big day arrives, it may be helpful to try to cut down on the amount of tobacco you use. Weaning yourself ahead of time could make it easier when your quit day arrives. One of the best ways to do it is to put off using when you feel a craving, even if it's for 10 minutes at a time. You should find yourself going longer and longer between cravings. Every journey begins with the first step!
How to survive quit day
Make sure you let everyone around you know about your quit day. Get rid of anything tobacco-related — all tobacco products, ashtrays, lighters, etc. It's important to follow through and go without tobacco the whole day. While it'll be hard, continually reminding yourself of your reasons for quitting will help.
Here are other tips for starting your tobacco-free journey:
Keep busy and distract yourself. Go for a walk or work on a hobby.
Drink plenty of water.
Use a nicotine replacement product if necessary.
Avoid being around other people while they are using tobacco and places that are triggers.
2. Gather support and tools
Your urge to use tobacco will be strong, so it's important to have a support system around you to help you through those tough times. Try finding friends or family who don't use tobacco or are former users to add support. Have someone you can call when you're feeling low or when a strong craving hits.
There are other ways to find support — either through a counselor or a smoking cessation program. North Country HealthCare has a behavioral health program that helps with ending tobacco usage.
Nicotine is addictive, and as one of the main components of tobacco, it makes it harder for people to quit. You become dependent on it, and going without causes withdrawal symptoms. To help curb those symptoms, using nicotine replacement therapy helps tobacco users get some relief.
You can get the nicotine you crave through gum, lozenges and sprays while avoiding the harmful chemicals associated with tobacco. Evidence has shown that using nicotine replacement therapies increases your rate of quitting by 50% to 70%. To learn more about what options are available to you, visit the American Cancer Society website.
3. Find ways to reduce stress and cravings
Dealing with nicotine addiction is only one part of stopping tobacco use. People often use tobacco for reasons that go beyond a chemical addiction. Many use it as a stress reliever or find themselves picking up a cigarette when they drink socially. Either way, it's important to understand your triggers so you can avoid them.
Life can be stressful, and if you find yourself going for tobacco the minute things get hairy, it's time to change your mindset. You'll need to distract yourself and find a new coping mechanism. Consider exercising to help battle stress. Research shows that physical activity decreases tension and improves your mood.
Or maybe meditation might help you relax. It could be as simple as pampering yourself with a massage or treating yourself to something new. Knowing your triggers and what you can do instead will ultimately help you kick the habit.
4. Avoiding slip-ups
It isn't easy to stop tobacco usage and never have a slip-up. Tobacco was probably a big part of your day. It could be tied to daily routines like waking up, having a cup of coffee, driving to work, etc., and it'll take time to get out of that habit.
Staying tobacco-free means staying committed to living a healthier lifestyle. This could mean:
Avoiding people and places that tempt you to use tobacco.
Chewing gum or sucking on a lollipop to have something in your mouth instead of a tobacco product.
Getting active! Go for a walk, cook dinner, start a garden or do yardwork. Try to find ways to distract yourself, and you'll eventually notice fewer cravings.
Reward yourself. Instead of spending money on tobacco, put that money into savings and use it to reward yourself weekly or monthly.
What to do if you use again?
Slip-ups are common and part of the process. The thing to take away from using tobacco again is learning what went wrong. What triggered you, and how did you react? What could you have done differently?
You may get discouraged, but don't feel down for too long. Slip-ups don't mean you can't kick the habit. Use your lapse to strengthen your resolve and grow from it.
Get professional support at North Country HealthCare
Quitting tobacco is challenging, and you'll need a support system to help you succeed. At North Country HealthCare, we have a behavioral health program that can help you stop using tobacco. For more information, contact us today.