Crisis Spurs Collaboration at North Country HealthCare
May 5, 2020 by Tammy Howell
---
Key Takeaways
What?
Local businesses have stepped up to partner with North Country HealthCare, allowing us to better care for northern Arizona during the COVID-19 pandemic.
So What?
Partners have donated much-needed items, like hand sanitizer, cloth face masks, isopropyl alcohol, and toilet paper.
Now What?
Thanks to our incredible staff and local partners, North Country HealthCare has been able to continue caring for our communities in the midst of our global crisis.
---
As a healthcare provider to over 55,000 patients across northern Arizona, North Country HealthCare has had to respond quickly and creatively to the COVID-19 pandemic. Providers and staff have drawn upon personal connections, partnering with local businesses in order to access critical supplies. Like the rest of the world, Flagstaff's medical community has faced shortages of medical equipment – like masks and hand sanitizer – needed to care for northern Arizonans.
A personal connection brings isopropyl alcohol
One item in short supply across the country is isopropyl alcohol, which can be used to sanitize objects, such as reusable personal protective equipment. Here in Flagstaff, Brooke Fulton, a program coordinator at North Country HealthCare, was searching around town for isopropyl alcohol to sanitize items in her workspace. When she couldn't find any, she spoke with her husband, Gary, who is the head brewer at Lumberyard Brewing Company.
Lumberyard had just received a shipment of isopropyl alcohol, which is used to sanitize brewing equipment. After speaking with Lumberyard owner Winnie Hanseth, Gary told Brooke that Lumberyard would be able to donate two growlers of isopropyl alcohol to the clinic to sanitize personal protective equipment (PPE). Growlers, which are used to hold beer, are the equivalent of about a half-gallon.
When ChemStation of Arizona, the Lumberyard's supplier of isopropyl alcohol, heard that North Country HealthCare needed more alcohol, they jumped at the opportunity to support a community health center. ChemStation, which is based in Phoenix, donated a 15-gallon drum of isopropyl alcohol. Brooke's husband, Gary, was able to personally deliver the donation to the health center.
Masks donated to essential team members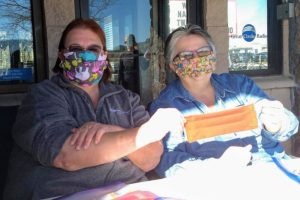 North Country HealthCare's health information technology (HIT) team is a vital part of the organization. Without them, the health center would not be able to provide 21st century care to our communities. The majority of North Country's HIT team work together in a shared office space at the Flagstaff 4th street location. HIT members assist administrative staff and clinic staff alike. As such, they have the potential to be exposed to the same viruses that frontline staff members are.
Bob Larkin is a member of the HIT team at North Country HealthCare. When his friend Vicki Burton, a radio announcer for KAFF radio, found out Bob and his coworkers needed PPE to wear in the clinic, she moved into action. Vicki arranged a donation of ten reusable cloth masks for the entire HIT team. The masks were made by Debbie and Kay of All Aboard Marketing. Now Bob and the rest of North Country's HIT team can safely assist staff and work alongside one another in their shared office space.
Hand sanitizer from an unlikely source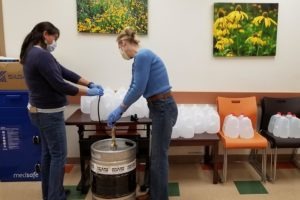 When Grand Canyon Brewing & Distillery in Williams had to significantly reduce their production of liquor due to the pandemic, they began producing hand sanitizer and packaging it in their signature beer kegs. North Country HealthCare was able to purchase a 15-gallon keg from the brewery. El Capitan Fresh Mexican Grill in Flagstaff found out that North Country HealthCare staff needed a way to portion and store such a large amount of hand sanitizer, so they then donated gallon-sized jugs. North Country HealthCare staff were able to "tap" the keg and fill the jugs with sanitizer, which were distributed to clinic staff for handwashing.
A lighthearted approach to a serious screening
Another item that has been in short supply during this unique time is toilet paper. Grocery stores around the country have been scrambling to keep their shelves stocked for costumers. Hotels, on the other hand, get their toilet paper through an entirely different supply chain, where it is delivered to them by the hundreds. Hotel manager and North Country HealthCare board member, David Chavez, found himself with an overabundance of toilet paper in a time when business had slowed at the hotel he manages near the Grand Canyon.
During a board meeting, North Country HealthCare CEO, Dr. Anne Newland, began a discussion about how to encourage North Country patients to continue with necessary preventive screenings during the pandemic. One of these screenings – the fecal immunochemical test or "FIT" – allows people to perform a colon cancer screening from the comfort of their homes. David and Dr. Newland thought offering free rolls of toilet paper with a FIT would be a playful giveaway to accompany the test. They thought the giveaway is also something people may greatly appreciate, as supplies have been limited.
David has donated more than 5000 rolls of toilet paper to North Country HealthCare. He said as he's served on the board for the community health center for the last four years, he's been inspired by how Dr. Newland is leading the organization in caring for northern Arizona, now and in the years to come.
"Dr. Newland has this vision for the future of healthcare in northern Arizona," David said. "Everything she and her team are doing make the community better, and she inspires me and the rest of the board. We get excited to be part of what she's doing, and it makes us eager to help out in any way we can."
Adapting the model of healthcare delivery
As the only federally qualified health center in the region, North Country HealthCare is uniquely positioned to protect the health and safety of the community during this difficult time. North Country is implementing a variety of measures to ensure the safety of patients and team members across all their locations. Some of these measures include:
Curbside visits and COVID-19 evaluations
Virtual visits
Separate waiting areas for sick and well patients
Curbside prescription pick-up and drop-off at North Country HealthCare's Flagstaff 4th Street, Kingman and Winslow locations
Curbside waiting for pregnant patients
"Like the rest of the world, this pandemic has forced us to move quickly and creatively in order to provide healthcare for our community," Dr. Newland said. "Our adapted workflows – like online appointments and curbside prescription pick-up – allow us to continue to care for northern Arizona while practicing necessary precaution. We want our patients to know we are here for them, and their health is our primary concern."
For more information about how North Country HealthCare has adapted to the changing environment, visit our COVID-19 updates page.