Providing Safe Dental Care During COVID-19
October 28, 2020 by Tammy Howell
---
Key Takeaways
What?
North Country HealthCare Dental goes above and beyond to ensure patient safety during the COVID pandemic.
So What?
Treatment area modification and air purification measures are critical safety protocols to provide safe, quality dental care at our Flagstaff, Williams and Winslow locations.
Now What?
Read on to learn more about the changes we've made, as well as how to schedule your dental appointment!
---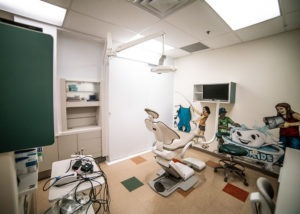 At North Country HealthCare, we know that a person's oral health is an important part of their overall health and wellbeing. Because of this we are committed to continuing to provide dental care to the communities we serve, especially during the coronavirus pandemic. North Country HealthCare has adopted numerous safety protocols at our Flagstaff, Williams and Winslow locations, in order to continue to offer safe, quality dental care.
Below are some of the safety measures in place at our Flagstaff 4th Street clinic. We are meeting (and exceeding) CDC recommendations for dental offices. Many of these safety measures are also in place at our Williams and Winslow dental clinics.
Before an appointment
When our patient relations representatives call patients to confirm their appointments, they ask them a series of COVID screening questions.
Patients are screened upon entering the building, using temperature checks and a quick series of questions.
Checking in
Waiting room chairs are appropriately spaced.
Waiting room surfaces are wiped down after each use, as well as every hour.
To eliminate paper hand-offs, patient relations representatives are asking patients questions and filling out their forms for them.
Patients are asked to use an antimicrobial mouth rinse before their procedure, which reduces the amount of microorganisms that can be expelled during a procedure.
PPE
Patients are required to wear face coverings inside the building.
All clinic staff wear surgical masks all the time.
Dentists and hygienists wear appropriate PPE during procedures, such as N95 masks, gowns, gloves, face shields and head coverings.
Space considerations
Our 4th Street clinic already had 2 hospital grade negative air pressure rooms, which is a great advantage, and this allows our staff to safely perform ultrasonic scaling, a cleaning technique that produces the most dental aerosols.
For all other procedures, patients are treated in 8 operatories that have been completely separated by floor-to-ceiling plastic paneling. Special thanks to Loven Contracting for their work on this!
Air flow (Air flow is a very important consideration when it comes to performing safe dental procedures)
Working with Loven Contracting and IMEG Engineering, we were able to make changes to our HVAC system, so that we follow hospital-level aerosol controls and CDC top-level recommendations for dental aerosol control. Airflow was redesigned for each operatory.
We've added 5 portable, chair-side air filters, which greatly increase the number of times an hour the air in each operatory is cleaned.
We upgraded our over all HVAC filtration to remove of sub-micron particles, similar to the level of an n99 mask.
Until further notice, we are providing full-service dental care for children, and limited care for adults.
If you have questions or would like to schedule a dental appointment, call the North Country HealthCare location nearest you.
Click here to view a photo gallery of the updates to our Flagstaff dental clinic, as well as our new Williams location.