Let Our Registered Dietitian Help You Make Healthy Changes
March 10, 2021 by Tammy Howell
---
Key Takeaways
What?
North Country HealthCare is now offering registered dietitian services to help patients make healthy lifestyle changes.
So What?
Our registered dietitian nutritionist can help patients manage chronic diseases like diabetes or heart disease.
Now What?
Talk to your provider today to see if registered dietitian services are right for you!
---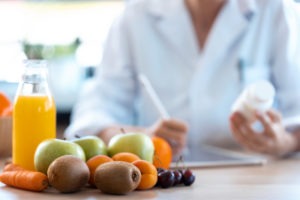 North Country HealthCare is now offering dietitian services by a registered dietitian nutritionist to help our patients live their healthiest lives. Everly Inzunza, MPH, RDN is a registered dietitian who will meet with patients in-person at our Flagstaff 4th Street location, as well as via telehealth with patients at any of our other locations. Read our FAQs below to learn more about these services and if they are right for you!
In this blog you'll also hear from a patient who has benefitted from utilizing our registered dietitian services.
What is a registered dietitian nutritionist?
Registered Dietitian Nutritionists (RDN) use their nutrition expertise to help individuals make personalized, positive lifestyle changes.
They are the food and nutrition experts who can translate the science of nutrition into practical solutions for healthy living. RDNs have degrees in nutrition, dietetics, public health or a related field from well-respected, accredited colleges and universities, completed an internship, passed an examination and maintain continuing education.
An RDN can help individuals to manage chronic disease like diabetes, heart disease, kidney disease, and more.
How can patients work with an RDN at North Country HealthCare?
In order to receive dietitian services at North Country, patients must be referred by their primary care physician.
RDN services are offered to all our patients either in-person at the 4th Street location, or through telehealth at the location nearest them.
The dietitian will help to set personalized nutrition and lifestyle goals for each patient. These are specific and attainable goals that are monitored by the dietitian.
Are RDN services covered by insurance?
Insurance coverage for medical nutrition therapy varies depending on insurance type. Check with our front office staff to see if your insurance covers RDN services.
If you have Medicare, it will cover medical nutrition therapy for diabetes, kidney disease, and anyone who has had a kidney transplant within the last three years. Medicare covers 3 hours of medical nutrition therapy the first year and 2 hours every subsequent year. Additional benefits may be given as needed; talk to you doctor to find out more.
If your insurance does not cover these services, North Country HealthCare has options to ensure your RDN appointments are accessible and affordable.
How can these services improve health and quality of life for patients?
Working with a registered dietitian will help to make sustainable long-term dietary and lifestyle changes. These habits will help to prevent and manage chronic disease.
Sustainable habits prevent the diet cycle of extreme dieting resulting in weight loss followed by the return of unhealthy habits resulting in weight gain and the return of dieting.
Sustainable habits will help improve the quality of life by promoting overall health and wellbeing.
How do I start meeting with a dietitian?
Talk to your primary care provider to see if RDN services are right for you!
Diana's Story
When Diana*, 40, was diagnosed with type 2 diabetes last January, she immediately felt overwhelmed.
"When my doctor told me I had diabetes, I was shocked. I felt lost and confused, and I had no idea where to begin," Diana said.
Her primary care doctor referred her to Everly for registered dietitian services. As soon as she started meeting with Everly, Diana said she immediately felt comforted, almost like taking a deep breath. They started by discussing small, attainable goals that aligned with her doctor's advice. The first step was to check her blood sugar levels every morning before breakfast and take prescribed medications. The next step that Everly and Diana discussed was portion control – choosing healthy amounts of certain foods. She also learned about how to shop more efficiently, and how to incorporate more fruits and vegetables into her daily routines. The advice of her dietitian made Diana feel like she had the power to make healthier choices and manage her diabetes.
Diana's A1C, or blood sugar levels, went down one whole point within a month of meeting with her dietitian and making small changes. Her doctor was impressed with her quick improvements. The mom of two has regular telehealth visits with Everly, and she attends North Country HealthCare's diabetes support group when she can.
"I went from feeling very overwhelmed at first to 'Okay, I can do this. I got this!' I'm so thankful for Everly's help."
*Patient's name was changed to protect her identity.