North Country HealthCare Provider to Run the Boston Marathon
November 27, 2017 by Tammy Howell
---
Key Takeaways
What?
One of North Country HealthCare's newest providers, Theresa Salvatore, FNP, will run the 2018 Boston Marathon in April.
So What?
Theresa will run the Marathon in honor of her father, a recent cancer survivor.
Now What?
After her father's experience with cancer, Theresa has a whole new outlook on preventive care for her patients.
---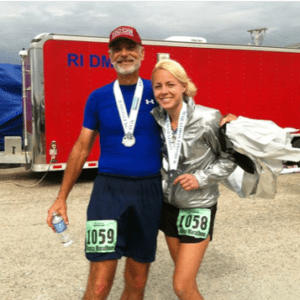 Theresa Salvatore, MSN, RN, FNP-BC, is a family nurse practitioner and one of the newest healthcare providers to join the North Country HealthCare team. Theresa cares for patients at North Country HealthCare's Winslow and Flagstaff locations. She is passionate about preventive medicine and enjoys the community health center environment, where she can treat a variety of patients with an array of conditions.
"When I began working in a hospital after graduating from nursing school, I quickly realized I was treating conditions that could've been prevented, especially heart disease. That's when I really became passionate about preventive care," Theresa said.
Theresa went back to school to become a family nurse practitioner, which would allow her to focus on preventive medicine. She completed her schooling at Georgetown University in Washington, D.C. in 2015. Before joining North Country, Theresa worked at a community health center in Detroit.
"Caring for patients at a community health center is where I feel like I have the most impact. It's bringing preventive healthcare to the people who need it the most. The work I do goes further and has a bigger impact than if I was in a hospital setting."
But Theresa's passion doesn't stop at preventive care; she is also an avid runner. Theresa started running in 2011, when a friend invited her to join her for a half marathon. After her first race, Theresa was hooked. Now six years later, Theresa has completed about 20 half marathons, two full marathons, and she plans to run in the Phoenix Marathon again in February 2018. Her biggest run to date will be the Boston Marathon, which Theresa will complete in April 2018.
Theresa is running the Boston Marathon for the Dana-Farber Cancer Institute with her father, who is a recent cancer survivor. Theresa's father, Andy, has always loved running, and he has been running marathons since Theresa was in middle school.
In October 2016 Theresa's dad ran the Detroit Marathon, right after he noticed a lump on his neck. At that race he qualified for the Boston Marathon and placed first in his age group. About seven months later Andy was diagnosed with stage IV oropharyngeal cancer. His treatment included surgery, five rounds of chemotherapy and 30 rounds of radiation to his head and neck, which took a toll on his body. Now finished with treatment, Theresa and her family recently received the exciting news that Andy has no evidence of disease.
Some of Andy's oncology care team are affiliates from the Dana-Farber Cancer Institute, a cancer research facility based in Boston. Theresa and her father will run the 122nd Boston Marathon with Theresa as a member of Dana-Farber Marathon Challenge team, which allows Theresa to participate in the world-famous event while working to conquer the disease that has so deeply impacted her family. She has made it her goal to raise $10,000 for the Dana-Farber Institute to continue their research efforts. There are about 200 runners on the team with Theresa, all of whom have a goal of raising $5.5 million for the Dana-Farber Cancer Institute.
"My dad is a vegetarian marathon runner, the last person you'd expect to get cancer. His ordeal has made me look differently at how I treat my patients. Cancer can happen to anyone," Theresa said. "As a primary care provider, I'm constantly screening people for cancer and trying to educate them about cancer prevention and maintaining a healthy lifestyle."
"Running is important for not only my physical health, but for my mental health as well. There's something about running long distances that is very therapeutic. And the same is true for my dad."
Andy is already back to running and has his sites clearly set on the Boston Marathon on April 16, 2018. His dedication and determination are truly inspiring. For more information about Theresa and Andy's marathon journey and the Dana-Farber Marathon Challenge, visit www.rundfmc.org/2018/theresarunsdfmc.