North Country HealthCare 2023 Cultural Competency Report
August 18, 2023 by Kristen Evon
---
Key Takeaways
What?
Each year, North Country HealthCare publishes its Cultural Competency Report.
So What?
North Country HealthCare strives to continually improve the quality of care provided to patients from all backgrounds.
Now What?
View the links below to see where we've been and where we're going!
---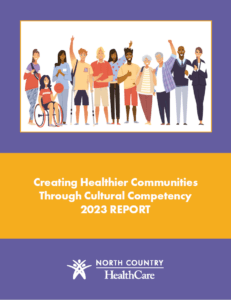 As we head into the final months of 2023, North Country HealthCare is pleased to provide our 2023 Cultural Competency Report. This report provides insight into our cultural competency, diversity, equity and inclusion-related efforts for the year prior. It gives our employees, patients, and community members a snapshot of where we have been, where we are now, and what we have in store for the future.
View the NCHC 2023 Cultural Competency Report:
Our continued efforts:
North Country's Cultural Competency Report is published every year. It is our goal that the report will help us see progress in how we care for our patients, year over year. The report serves as a means to hold us accountable in our efforts that everyone, especially in rural areas of the state, gets the healthcare they need to sustain their quality of life.
A word from the North Country Chief Executive Officer, Anne Newland, MD, MPH:
"At North Country, we advance the goal of cultural humility through our hiring practices and training. We strive to create an inclusive and equitable workplace where opportunities for growth and professional development are available to all staff.

Equity and inclusion were built into our 2021-23 strategic plan.

We improved team member training, support, and compensation so that they can better serve our patients and communities.

As home to the innovative Colorado Plateau Center for Health Professions, North Country has built health professions education into our business model. We prepare the next generation of health professionals and make it easier for the diverse communities of northern Arizona to get their healthcare needs met."
For more information on North Country HealthCare's efforts around cultural competency, equity and inclusion, please contact the Human Resources department at hr@nchcaz.org.