NACASA Celebrates a Decade of Providing Care after Assault
February 17, 2017 by Tammy Howell
---
Key Takeaways
What?
February 2017 marks 10 years that Northern Arizona Care and Services After Assault (NACASA) has been caring for victims of sexual assault and domestic violence at North Country HealthCare.
So What?
In celebration of its anniversary, NACASA recently unveiled a new program name and logo.
Now What?
NACASA will continue to work closely with many community partners to offer specialized care and services to assault victims.
---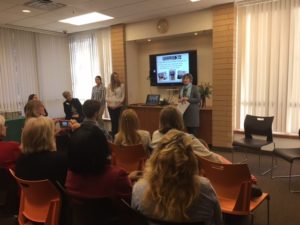 In 2016, 139 victims of sexual assault and domestic violence received forensic exams from Northern Arizona Care and Services After Assault (NACASA) at North Country HealthCare. NACASA has been providing care for assault victims at North Country HealthCare for the last ten years, and each year the number of exams performed increases. So far in 2017, 12 assault victims have received forensic examinations.
On February 16, 2017 NACASA hosted an open house to highlight its impact on northern Arizona over the last decade. Dozens of community leaders gathered to learn how victims have been cared for, both by NACASA and the many community partners also providing services for assault victims. During the event, NACASA also unveiled their new name and logo. NACASA was previously known as "Northern Arizona Center Against Sexual Assault."
"Only one in three victims of sexual assault reports the assault to authorities," said Governor's Office Representative, Dianne Umphres. "NACASA is making it easier for assault victims in northern Arizona to report the crime by providing a safe, private environment for examinations."
NACASA is a safe place for adult and adolescent victims of sexual assault and domestic violence to explore their options after an assault. Examinations are performed by doctors and nurses who are specially trained to provide medical forensic care immediately following an assault. NACASA examiners may also provide expert testimony in court if a case goes to trial. There are currently ten examiners and a volunteer medical director working within the three counties served by NACASA: Apache, Coconino and Navajo Counties. NACASA also offers a Sexual Assault Survivors Support Group.
Below is a timeline of how NACASA has evolved since its inception in 2002:
2002: Northern Arizona Center Against Sexual Assault is established. Exams are performed out of Victim Witness Services of Coconino County. That same year, NACASA was voted "Organization of the Year" by the Arizona Daily Sun.
2007: NACASA moves to North Country HealthCare.
2009: Program is expanded to North Country HealthCare sites in Holbrook, Show Low and Round Valley.
2010: "A Healing Place," the sexual assault support group begins.
2014: NACASA expands services to include domestic violence strangulation exams.
2015: Page exam site is established at Canyonlands Urgent Care with help from Arizona Rural Women's Health Network.
2017: NACASA changes its name to "Northern Arizona Care and Services After Assault" and celebrates 10 years as a North Country HealthCare program. NACASA receives a dedicated exam room and interview area at North Country HealthCare's Flagstaff 4th Street location.
NACASA is funded by grants from Coconino County Public Health Services District, the City of Flagstaff, Northern Arizona Healthcare Foundation, Arizona Office of the Governor, Victims of Crime Act Crime Victims Fund and the Assistance League of Flagstaff. Revenue is also generated from exams performed for several local and federal government agencies.
For more information call 928.522.9460.