Mobile Medical Unit Bringing Care to Mohave County
October 28, 2021 by Jessica Gee
---
Key Takeaways
What?
Earlier this year North Country HealthCare began offering services via a mobile medical unit to Mohave County.
So What?
Mobile medical units allow us to bring care to the patient, wherever they are.
Now What?
Read on below to learn more about the services offered via North Country HealthCare's two mobile medical units.
---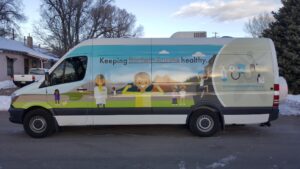 Beginning last April North Country HealthCare started offering medical services in Mohave County on their mobile medical unit. The mobile medical unit, or MMU, is a Sprinter van that has been modified to serve as an exam room. The back of the van houses an exam chair and everything the provider and medical assistant need to complete a regular medical appointment.
North Country HealthCare first began offering services through a mobile medical unit in 2012 in Flagstaff, Arizona. The mobile medical unit was utilized to provide regular, primary care on-site at businesses, schools and homeless shelters in Flagstaff.
Mobile medical units allow primary care providers, like North Country HealthCare, to offer easier access to healthcare for special populations who might otherwise have barriers to getting to a doctor's office. For many patients there are a number of different reasons that make it difficult to get to the doctor, such as lack of transportation, or being at school or work during the week. The mobile medical unit  brings the care directly to those who need it!
What services are offered?
Providers can offer the same basic medical care you'd expect at a regular doctor visit in a clinic setting. If a patient needs more advanced medical care than what the van is equipped to handle, the patient would be transferred to another medical facility. The services available in the unit include:
Primary care
Management of acute and chronic conditions (asthma, diabetes, etc.)
Urgent care for sudden illness or injury
Immunizations
Labs & X-rays
COVID testing and vaccines
Where can patients access the MMU?
The MMU in Mohave County is currently serving patients at the Kingman Area Food Bank, as well as the small, rural communities of Meadview and Yucca. When caring for patients in Meadview, the MMU is parked at the Meadview Community Center, and then at the Yucca Food Bank when in that area. There are plans to expand these medical services to Dolan Springs and Chloride within the next year. The unit stays at each location one day at a time, during regular business hours.
The MMU that is based in Flagstaff treats patients weekly at Flagstaff Shelter Services, thanks to long-standing contract with the shelter. The MMU staff also treats patients at Flagstaff High School every week, what is known as school-based health services. It is also available for pop-up clinics throughout the year, such as for COVID vaccines, and it makes regular appearances at events in the community.
How much do these appointments cost?
The billing process works the same as a regular doctor visit – if a patient has health insurance (including AHCCCS, Arizona's Medicaid program), their insurance will be billed for the visit. If they do not have insurance, the patient may qualify for North Country's sliding fee scale, which would allow them to pay a nominal fee for their visit.
Meet BOB, our first mobile medical unit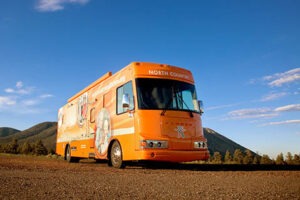 In the summer of 2012, North Country HealthCare introduced their first MMU, lovingly called BOB for "big orange bus." It was a much larger unit than is utilized now. It served as the medical home to over 1,000 students in Flagstaff Unified School District for several years, providing preventive and acute treatment on location at schools throughout the city. It also served as the on-site healthcare provider at Gore and with a program in Flagstaff's Sunnyside neighborhood called "Hermosa Vida." It was also utilized at numerous community events throughout the year to promote North Country HealthCare and it's services.
To learn more about our mobile medical units, or to request one at your next event, contact us.