Keeping Your Child's Smile Healthy
September 1, 2022 by Tammy Howell
---
Key Takeaways
What?
There are some small changes you can make to help your child maintain a healthy smile.
So What?
Regular tooth brushing is the first step to good oral hygiene.
Now What?
North Country HealthCare is here to help keep your child's – and your – teeth healthy for a lifetime!
---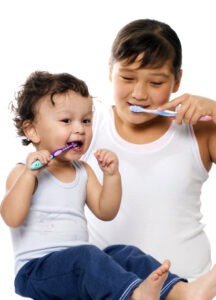 In our most recent blog post, we discussed how a child's oral health impacts their overall health and wellness. In this post, we want to offer some tips and tricks to help keep your child's smile beautiful now and into the future!
Tooth brushing: the right start
To start your child in the right direction, you can begin the brushing process even before their first tooth emerges by just wetting a washcloth and wiping around the gum line to reduce the build-up of bacteria. Once you see their first tooth coming in, you can start using fluoride toothpaste. It is recommended by the American Academy of Pediatrics that children under 3 years old only use a grain of rice-sized amount of fluoride toothpaste. This will help prevent an upset stomach, as small children tend to swallow their toothpaste. As children grow, parents can begin teaching them how to spit out their toothpaste and use larger amounts, roughly pea size, increasing up to jellybean size over time.
Have your child brush every morning after breakfast, before bed, and, even occasionally, brush in between meals, as this helps keep their mouth free and clear of bacteria build-up.
Beyond brushing
Brushing at least twice a day is an essential first step to keeping your child's teeth healthy. But it doesn't stop there!
Flossing should start when your child has two teeth that touch. This is often around ages 2 to 3. Before this age, flossing is not needed. Children often need help with flossing until they are ages 8 to 10.
If your child is over the age of 6, you may consider adding a fluoride mouthwash into their routine. This can help protect against cavities and help them reach areas in their mouth they may have missed while brushing and flossing. It's important to note that most children under six years old have not developed the reflexes to properly spit out mouthwash, so it's best to wait until they are ready and able.
To ensure your children have strong, healthy teeth as they grow up, schedule dental visits every 6 months.
Make a trip to the dentist a happy one
A visit to the dentist can be nerve-racking, more so for children who have never gone before or had a tough go their first time. If your child is experiencing fear and anxiety about getting a dental check-up, here are some techniques to help them feel calm, and maybe even have a little fun!
Information is power – Inform and prepare children as much about the check-up as possible, keeping things light and airy. "Show-tell-do" is another way to prepare your child by asking the dentist to explain how each tool works before the procedure, even practicing on a model while the tools are still off.
Communication is key – Once it's time for the procedure to begin, encourage your child to signal the dentist to stop if at any time they feel discomfort. This builds communication and trust between patient and dentist, or dental hygienist, which is a key component during the procedure.
Relaxation strategies – These help to slow the body's physical reaction to fear and reaction of the dentist. Breathing exercises or closing their eyes and imagining their favorite place can help put your child at ease before or during their check-up. Bringing your child's favorite stuffed animal or toy might also help provide some comfort.
Positive reinforcement – Giving positive affirmation is another way to reduce fear and anxiety with praise and a small reward, like a small toy or sticker for their "brave behavior."
Be a role model – It is important for you to be there for your child while at their check-up, and even before. If parents are anxious to go to the dentist, their children tend to develop those same reactions. If the dentist is not fun for you, explain how you get through going to the dentist to instill a positive influence and better overall experience for the whole family.
Healthy eating matters
Eating a healthy, nutritional diet not only gives your child the fuel they need to grow up strong – it also helps ensure a healthy smile. Food with too much sugar, carbohydrates and starches can cause tooth decay. When these kinds of foods remain on your child's teeth for too long, plaque bacteria use that sugar to produce acids that attack your enamel, the hard surface of your tooth. Healthier alternatives not only keep their teeth strong and in great working condition, but also helps them maintain their weight and other bodily functions.
Here are some healthy eating suggestions:
Yogurt, cheese, and milk – Dairy-based snacks like yogurt, cottage cheese, string cheese, and milk are all great-tasting snacks that are good for your teeth, too. Dairy contains many vitamins and minerals like calcium and vitamin D to strengthen your teeth.
Fruits and veggies – These offer many benefits to your teeth, thanks to their high nutrient content. The texture and high fiber content can also help to clean your teeth and massage your gums as you eat them, particularly if you eat the fruit and veggies raw.
Popcorn – Try popcorn lightly sprinkled with sea salt, cinnamon, or pumpkin spice.
Dark chocolate – Chocolate candies typically contain lots of added sugar, but dark chocolate is made with less sugar and offers some great health benefits. It's a little-known secret that chocolate contains compounds that can actually help to harden and strengthen your enamel.
Fondue, hummus, and tzatziki – Cheese fondues, hummus, and tzatziki sauce made with cucumber and yogurt are all healthy dips that pack in the nutrients. Pair them with fruit and veggies for a doubly healthy and flavorful snack.
For more helpful tips and ideas, visit the MouthHealthy website created by the American Dental Association.
Here for you
At North Country HealthCare, we offer a variety of helpful services designed to keep your child's smile bright and healthy. We offer everything from comprehensive dental exams, teeth cleaning and digital X-rays, to fluoride treatments, sealants and tooth fillings. If you would like to know more about how to develop good dental hygiene habits for your child, please contact us!