Hermosa Vida Program's Case Study Featured on Key Industry Website
June 2, 2016 by Tammy Howell
---
Key Takeaways
What?
So What?
Now What?
---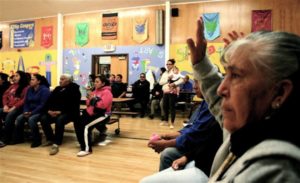 On Friday, May 20th North Country HealthCare's Hermosa Vida program was featured in a collection of case studies created by Active Living by Design, an organization that advocates for healthier communities across the United States. Active Living by Design (ALBD) published a collection of six case examples about clinical-community partnerships which have effectively addressed social determinants of health and have advocated to improve community conditions.
In publishing the case studies, ALBD hopes to highlight best practices of clinical-community collaboration, and to serve as a resource for other organizations who hope to create long-term changes that lead to improved health behaviors and community-level health outcomes.
The Hermosa Vida case study tells the story of the Hermosa Vida outreach program at North Country HealthCare and how the program successfully addressed community conditions in the La Plaza Vieja neighborhood, engaged the entire community, and developed leaders within the neighborhood.
In 2010, North Country created the Hermosa Vida program to improve community health outcomes by focusing on health behaviors and social and environmental factors. Hermosa Vida does this by reducing barriers and increasing access to resources that allow people to live healthy lives. In 2013 Hermosa Vida's community organizers began working in Flagstaff's Arrowhead Village Mobile Home Park within the La Plaza Vieja neighborhood to address environmental conditions that were impacting the health and quality of life of the residents, many of whom live in poverty. After speaking with residents, the Hermosa Vida team realized that the residents' most pressing concern was a serious housing issue they faced.
Residents of the 56 mobile homes were in danger of being displaced when a real estate and developing company proposed to develop student housing on the land where their mobiles homes sat. The housing development would have displaced more than 100 residents from Arrowhead Village. Given the cost of relocating and the lack of affordable housing options in Flagstaff, the community needed help to prevent being dislocated and falling deeper into poverty.
After learning about the role of affordable housing as a social determinant of health, Hermosa Vida's staff promptly began working with the residents of Arrowhead Village to increase awareness of the new development and the impending displacement. Hermosa Vida staff taught residents how to voice their concerns in public settings and engage others in the issue. Using evidence-based research, the Hermosa Vida team, along with Arrowhead Village residents, testified in front of the Planning and Zoning Commission on behalf of their community.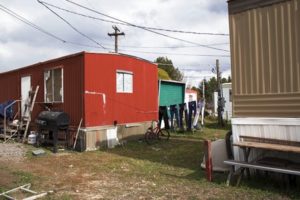 Ultimately, the Planning and Zoning Commission voted against the proposed development, and the developer withdrew its proposal.  The publicity and conversations surrounding Arrowhead Village had long-term implications for the public sector; the city's planning department is now addressing issues of affordable housing and displacement, and there is an understanding within the Flagstaff community that affordable housing is directly associated with health. Many residents also learned how to advocate for themselves and others on issues that are most important to them.
Although Hermosa Vida was retired in 2015 because the grant period ended, the program still has lasting effects in the Flagstaff community. Arrowhead Village Mobile Home Park remains today, and residents live without the looming threat of eviction. The community health worker who spearheaded Hermosa Vida efforts, Roxana DeNiz, continues her efforts at North Country HealthCare for cultural competency and other social factors that affect the health of those living in northern Arizona.