Health Start Gives Moms a Chance at Success
December 6, 2016 by Tammy Howell
---
Key Takeaways
What?
One mom credits Health Start for preparing her for motherhood.
So What?
Health Start is a free neighborhood outreach program that works with pregnant women, new mothers and their families.
Now What?
To learn more about Health Start, call 928-522-9430.
---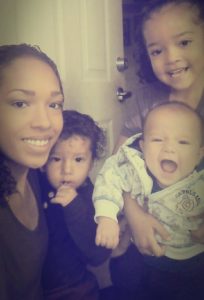 When Lakrisha Stingley became pregnant with her first child, she did not feel prepared for the long road that lay ahead of her. Eighteen years old and still in high school, Lakrisha was anxious. When she broke the news to her parents and older siblings, it was a difficult reality for all to accept. But Lakrisha knew she had to push forward in order to prepare to be a mother to the little person to whom she would soon give birth.
Lakrisha quickly enrolled in the Teenage Parent Program (TAPP), an alternative education program for pregnant and parenting teens within the Flagstaff Unified School District. It was during her time at TAPP that Lakrisha first heard about the Health Start program offered at North Country HealthCare. Lakrisha enrolled in Health Start and began meeting with her community health worker, Keri Morrill.
"When I first found out I was pregnant I was so depressed and so scared," Lakrisha said. "Ever since I met Keri, she's been there for me through all my ups and downs. She always listened when I needed to talk to someone outside of my family. Keri is a wonderful person."
Lakrisha and Keri met regularly and went through the Health Start curriculum. Keri coached this first-time mom through the ins and outs of pregnancy, labor and delivery, breastfeeding, infant care and toddler development. Keri helped Lakrisha get connected to community resources. She would bring dolls to Lakrisha's house and teach her how to burp a newborn and change diapers. When Lakrisha struggled with depression during her pregnancy, Keri offered a listening ear and helpful advice.
In December 2011, Lakrisha gave birth to a healthy, beautiful baby girl. She worked for a short time after having her baby, but she soon realized she wanted to stay home full-time and care for her daughter. Then in 2014, she became pregnant with her second child. Once again, Keri was there to help prepare Lakrisha for life as a mom of two. And when Lakrisha had her third child last February, Keri was by Lakrisha's side throughout the whole process.
"It has been incredibly rewarding to see how much Lakrisha has grown from a teen mom to a great parent. She has learned so much," said Keri Morrill. "Lakrisha has made her children her one and only priority, and I am very happy to have been a part of her journey as a mom."
"Her son Larenz was born five weeks early, and it was really scary for Lakrisha. I was with her when she gave him his first bath. I was able to help her feel a little more comfortable holding her preemie because of my own personal experience," Keri said.
Now as a stay at home mom of two healthy baby boys and a daughter in preschool, Lakrisha is grateful for how Health Start helped prepare her to be the mother she is today.
"Before I got pregnant with my daughter, I was making some bad decisions. But becoming a mom has changed my whole life for the better. My kids are my everything," said Lakrisha.
The Health Start Program is a free neighborhood outreach program that works with pregnant women, new mothers and their families. The goal of the Health Start is to give children and families the best chance of success through education and referrals to community resources. Families receive home visits and case management with oversight by nurses and social workers through the enrolled child's second year of life.
Community health workers like Keri represent Health Start and live within the communities they serve. Community health workers visit enrolled families and provide education, physical and emotional support and advocacy. They are highly trained on prenatal growth and development, breastfeeding, labor and delivery, premature warning signs and infant care, nutrition during pregnancy, parent, child growth and development, car seat safety, and home safety. Pregnant women and mothers with children under two years old can enroll if they live in a community served by Health Start. The program is offered in Flagstaff, Holbrook, Payson, Show Low, Williams and Winslow. For more information about Health Start, call 928-522-9430.