Handwashing made possible, even without running water
June 1, 2020 by Tammy Howell
---
Key Takeaways
What?
North Country HealthCare and local businesses partner to donate handwashing stations to families on the Navajo Reservation.
So What?
Many families without running water are forced to re-use and share water with family members to wash their hands.
Now What?
North Country HealthCare is committed to not only meeting our patients' healthcare needs, but also other needs that keep our patients healthy to do the things they love to do.
---
News reports have told how the Navajo Nation has been devastated by the coronavirus pandemic. As of Sunday, the Nation has reported 5,250 COVID cases, making it one of the hardest hit communities in the U.S. per capita. The spread of the disease can be attributed to limited access to medical care, multiple families living in one home, and a lack of running water. Here in northern Arizona, several local businesses are working to do their part to create solutions for this crisis.
Artisan Metal Works, Home Depot and HomCo of Flagstaff worked together to create, donate and distribute handwashing stations to families on the Navajo reservation who do not have running water. These easy-to-use stations allow people to wash their hands with clean water every time, without any electricity. They partnered with North Country HealthCare's community health programs to identify individuals who would benefit from the donations.
Medical case managers from North Country HealthCare delivered 11 handwashing stations last week; Artisan Metal Works is donating 15 more this week. They were also able to deliver donated food and supplies to their clients. In an effort to slow the spread of COVID-19, the Navajo Nation has instituted several multi-day curfews over the last two months; this makes it difficult for many living far out on the reservation to travel into town for food and other essentials.
A Kingman resident coordinated donations of dry and canned goods, water, flour, baking powder, salt, sugar, hygiene items, diapers, hand soap, paper towels, toilet paper, and more. The resident, who wishes to remain anonymous, reached out to a North Country HealthCare community health program team member about helping when she heard there was a need.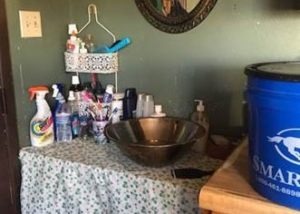 Many families on the Navajo Nation have to wash their hands with used water that is shared between family members. It is common for people to fill a large bowl with water and reuse it several times before replacing with clean water. Water has to be hauled from a local well or from the local chapter house, a meeting space for gatherings and supply distribution.
Orlynda Tully, program coordinator and medical case manager at North Country HealthCare, said she was relieved to see many of their high-risk clients get an extra helping hand.
"These donations were a huge help to our clients. When we made the deliveries, we were also able to check on our clients and make sure they had their medications and anything else they need to stay healthy," Tully said. "Our clients have been so grateful for some extra help during this difficult time."
Not only is North Country HealthCare is committed to providing quality primary care, but also to meeting patients' needs through its community health programs.  To learn more about North Country, visit the About Us page.