Graduate Medical Education Funding Goes Unaddressed in (Leaked) State Budget
May 22, 2019 by Tammy Howell
---
Key Takeaways
What?
A leaked version of the Arizona House of Representative's budget leaves out funding for graduate medical education (GME).
So What?
Lack of GME funding will thwart North Country HealthCare's efforts to address Arizona's healthcare provider shortage with a family medicine residency program.
Now What?
Contact your local representative today and tell them Arizonans' health depends on GME funding.
---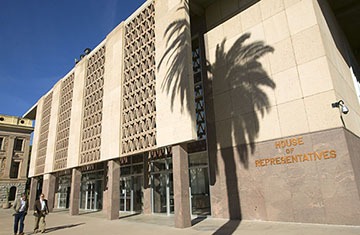 North Country HealthCare is disappointed to learn today, after insiders leaked the state House budget, that funding for Graduate Medical Education (GME) is excluded. North Country HealthCare has an accredited family residency program ready to recruit and start its first class. The residency program was initiated to address the primary care provider shortage in northern Arizona. With the rate at which Arizona's population is growing, we will be facing even more extreme shortages in accessing timely and specialty health professionals in the future.
The Physician Shortage
Arizona needs to invest in its primary care pipeline. The state's physician shortage is one of the worst in the nation. The state ranks 44th of 50 states in primary care physicians. The shortage can't be fixed without attracting additional physicians. And quickly.
"Funding Graduate Medical Education is critical to ensuring Arizona has a sufficient number of medical professionals to care for our rapidly growing population," said Anne Newland, North Country HealthCare CEO. "We have a plan solidified today to meet northern Arizona's healthcare needs of tomorrow."
Including GME funding in the budget will enable hospitals and health centers across the state to increase the number of post-graduate physician residents they train through state funding that was cut more than a decade ago.
Potential for Significant Positive Economic Impact
Recently North Country HealthCare and the Arizona Hospital and Healthcare Association (AzHHA) commissioned a study. The purpose of the study was to ascertain how the passage of a legislative proposal to combat the state's severe physician shortage would affect the economy and patient access to care. The independent economic-impact study showed "significant positive economic impact" to the state and expanded patient access to care over the next ten years.
The study, prepared by Rounds Consulting Group, Inc., shows that increasing the number of physician residents at three rural hospitals and one community health center alone would result in 981 new high-paying jobs and $1.1 billion in economic output over ten years. Total economic output for North Country HealthCare would result in nearly $28 million.
"Although the study was limited to four facilities, the same economics apply at the state level," explains Jim Rounds, the consulting firm's President and Chief Economist. "I'm certain further studies would show the statewide impact could be four or five times higher."
North Country HealthCare Urges Legislators to Take a Second Look
"We believe Gov. Doug Ducey and legislative leaders have missed an opportunity to combat the physician shortage by funding programs like Graduate Medical Education," says Newland.
Newland is urging our leaders to take a second look at the GME bill and include its funding in the final version of the budget, before falling even further behind in this physician shortage. We urge you to do the same by contacting your legislator today.