North Country HealthCare CEO Honored with ATHENA Award
March 26, 2021 by Tammy Howell
---
Key Takeaways
What?
North Country HealthCare CEO Dr. Anne Newland was the 2021 ATHENA Award recipient.
So What?
Each year the Greater Flagstaff Chamber of Commerce honors a woman in Flagstaff who is a shining example of leadership in her community.
Now What?
As an ATHENA recipient, Dr. Newland joins an elite group of women in Flagstaff who are making a profound impact on others.
---
Today the Greater Flagstaff Chamber of Commerce hosted their virtual ceremony for the 32nd Annual ATHENA Award and ATHENA Young Professional Award. We are proud to announce that North Country HealthCare's CEO Dr. Anne Newland was this year's ATHENA Award recipient!
Each year, the Greater Flagstaff Chamber of Commerce presents the ATHENA Award to a local businesswoman who has achieved excellence in her field, served the community and assisted other women in the attainment of their goals.
A commitment to the community
Dr. Newland was nominated for how she led North Country HealthCare throughout the coronavirus pandemic. North Country was able to maintain daily operations at all of it's locations throughout northern Arizona with little interruption. When asked by Chamber president and CEO Julie Pastrick how she did it, Dr. Newland gave credit to her team.
"First and foremost, I work with great people. We had a number of meetings early on thinking about what do we need to do to keep our staff safe, to create a safe environment for our patients, and to be able to continue to provide services," Dr. Newland said. "We were able to innovate and change. We offered curbside services, refined our safety plans. There's been some service disruption; it is a global pandemic, it's going to happen. But I'm really proud of the way we've been able to continue serving our communities."
Under Dr. Newland's leadership, North Country HealthCare quickly expanded their telehealth services, also known as virtual visits, to ensure no patient had to delay their healthcare. They offered COVID testing and now COVID vaccinations throughout their service region.
A history of service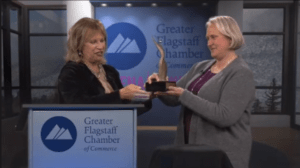 Dr. Newland's nominators also highlighted her unwavering commitment to northern Arizona's rural and underserved communities. Prior to joining North Country in 2013, Dr. Newland worked for the Indian Health Service on the Navajo Reservation. It was here in Kayenta that Dr. Newland was able to increase access to women's healthcare by 300%.
Dr. Newland has also contributed to numerous community service organizations in northern Arizona, having graduated from the Flagstaff Leadership Program. She is currently the president of the Flagstaff Shelter Services board and works with the Arizona Alliance of Community Health Centers.
When asked what motivates her desire to serve others, Dr. Newland gave credit to her parents, who are also physicians. She also spoke of the church environment in which she was raised.
"I have found it very satisfying over the years to work in places like the Covenant House Nineline, volunteering with the Nebraska AIDS Project. All those things just made my world bigger and richer and better," Dr. Newland said.