Celebrating National Health Center Week 2023
August 7, 2023 by Kristen Evon
---
Key Takeaways
What?
National Health Center Week takes place August 6 – 12, 2023.
So What?
North Country HealthCare will celebrate with a CEO Town Hall Event on Thursday, August 10th at 7:30 a.m.
---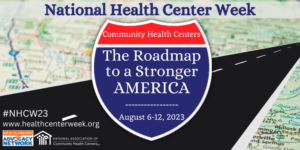 The team at North Country HealthCare is excited to celebrate National Health Center Week 2023 from August 6 – August 12. The week serves as an opportunity to highlight the important work being done by community health centers across the country to care for millions of Americans.
North Country HealthCare will be hosting a CEO Town Hall event on Thursday, August 10th at 7:30 a.m. North Country HealthCare CEO Dr. Anne Newland will discuss "Interprofessional Education & Practice." The event will be offered in-person in the Community Room at 2920 N. 4th Street, Flagstaff AZ 86004 and via livestream.
Livestream link: https://youtube.com/live/zVXs7aGVWSI?feature=share
Presenters include:
Anne Newland, MD, MPH, CEO, North Country HealthCare
Kimberly Chen, BSPharm
Bruce Wilcox, DMD
Sarah Coles, MD, FAAFP
Marica Martinic, MPH
Light breakfast & coffee will be provided.
Celebrating the work being done
Health centers provide preventive and primary care services to more than 30 million people across 14,500 communities annually. Community health centers provide care to people who disproportionately suffer from chronic disease and lack access to affordable, quality care. While our approach is community-based and local, collectively we are the backbone of the nation's primary care system. Community health centers lower healthcare costs to the tune of 24 billion dollars a year, reduce rates of chronic diseases, and stimulate local economies.
At North Country HealthCare we provide family medicine, pediatrics, behavioral health, dental care, pharmacy services and much, much more. Community health centers are not just healers; we are innovators who look beyond medical charts to address the factors that may cause poor health, such as poverty, homelessness, substance use, mental illness, lack of nutrition, and unemployment. We are a critical piece of the healthcare system, and we collaborate with hospitals, local and state governments, social, health and business organizations to improve health outcomes for people who are medically vulnerable. In the last few years, we have pivoted to serving our communities through increased access to telehealth, drive-through COVID-19 testing, COVID-19 vaccinations and curbside services. We did all this while still ensuring our patients can access necessities like food and housing resources.
While COVID-19 continues to exacerbate social and medical inequities across the country, community health centers have stretched themselves to reconfigure services for those in need. As unemployment rates rise and more people lose their employer-sponsored health insurance, community health centers must remain open to provide care for all, regardless of insurance status.
Show your support during National Health Center Week by using the hashtag #NHCW23 on social media!