Celebrating National Health Center Week 2021
July 26, 2021 by Sarah Pena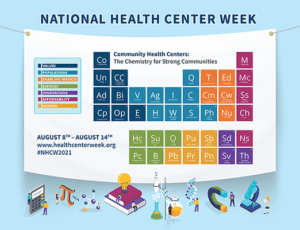 The team at North Country HealthCare is excited to celebrate National Health Center Week 2021 from August 8 – August 14. The week serves as an opportunity to highlight the important work being done by community health centers across the country to care for millions of Americans.
North Country HealthCare will be hosting a CEO Town Hall event on Thursday, August 12th at 7:30 a.m. North Country HealthCare CEO Dr. Anne Newland will discuss "Health Policy Priorities During the Pandemic Recovery." The event will be offered both in-person (in the Community Room at 2920 N. 4th Street, Flagstaff AZ 86004) and via livestream.
Presenters include:
Anne Newland, MD, MPH, CEO, North Country HealthCare
Patrice Horstman, Coconino County Board of Supervisors District 1
Edward Paul, MD, Program Director, The NARBHA Institute Family & Community Medicine Residency
Light breakfast & coffee will be provided. To join the livestream, visit: q-r.to/nchclivestream
Elected officials will join communities across the country in elevating the work community health centers have done while fighting on the front lines of COVID-19 to keep our communities healthy and safe. This engagement from policymakers will demonstrate that, not only is it possible to move beyond the partisan divide over healthcare, but it's also possible to support and agree on a program vital to our communities.
Celebrating the work being done
Health centers provide preventive and primary care services to almost 30 million people and have continued to do so while facing a global pandemic. Community health centers provide care to people who disproportionately suffer from chronic disease and lack access to affordable, quality care. While our approach is community-based and local, collectively we are the backbone of the nation's primary care system.  Community health centers lower healthcare costs to the tune of 24 billion dollars a year, reduce rates of chronic diseases, and stimulate local economies.
At North Country HealthCare we provide family medicine, pediatrics, behavioral health, dental care, pharmacy services and much, much more. Community health centers are not just healers; we are innovators who look beyond medical charts to address the factors that may cause poor health, such as poverty, homelessness, substance use, mental illness, lack of nutrition, and unemployment. We are a critical piece of the healthcare system, and we collaborate with hospitals, local and state governments, social, health and business organizations to improve health outcomes for people who are medically vulnerable. In the last year and a half, we have pivoted to serving our communities through increased access to telehealth, drive-through COVID-19 testing, COVID-19 vaccinations and curbside services. We did all this while still ensuring our patients can access basic necessities like food and housing resources.
While COVID-19 continues to exacerbate social and medical inequities across the country, community health centers have stretched themselves to reconfigure services for those in need. As unemployment rates rise and more people lose their employer-sponsored health insurance, community health centers must remain open to provide care for all, regardless of insurance status.
Rising to meet the need
The mission of community health centers remains crucial today because access to basic care remains a challenge in parts of the United States. Many people live in remote and underserved communities where there is a shortage of providers and, in many cases, the nearest doctor or hospital can be as far as a 50-mile drive in another county. Right now Arizona needs an additional 605 primary care physicians to address its shortage of health professionals, according to the Arizona Department of Health Services.  In fact, Arizona is ranked 38th in the nation in the number of primary care providers per 100,000 population. Not having access to a primary care provider makes routine check-ups and ongoing care difficult to obtain, and it has a negative impact on the quality of life of Arizona's most vulnerable communities.
Access to care is especially dire in Arizona's rural, frontier and Native American communities, where the population to provider ratio is 3,896:1. HRSA considers an area to be over-utilized if it has a population to provider ratio of 2000:1 or greater.
Community health centers depend on Congress to continue to serve as healthcare homes. Long-term and stable funding for community health centers will ensure we can keep our doors open and close the growing access gap for medically vulnerable communities. Special thanks are owed to Congressman Tom O'Halleran and Representatives Joanne Osborne and Regina Cobb, who have shown leadership in supporting and/or sponsoring legislation that will protect health centers from losing critical funding and supporting the Teaching Health Center initiatives around Graduate Medical Education.
Show your support during National Health Center Week by supporting a health center in your community and on social media using the hashtags #ValueCHCs and #NHCW21. We will be there when you need us.