Community Health Director Amanda Guay Wins the 2022 ATHENA Award
February 18, 2022 by Tammy Howell
---
Key Takeaways
What?
North Country HealthCare's Community Health Director, Amanda Guay, MPH was named for the 2022 ATHENA Award winner.
So What?
The ATHENA Award is presented by the Greater Flagstaff Chamber of Commerce to honor women leaders in our region.
Now What?
Amanda has demonstrated unmatched leadership in her community for over 20 years – read on to learn more!
---
"My own definition of leadership is this: The capacity and the will to rally men and women to a common purpose and the character which inspires confidence." —General Montgomery, senior British Army Officer who served in the First and Second World Wars.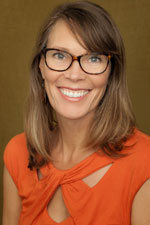 Amanda Guay, MPH, is the Community Health Director at North Country HealthCare, and she epitomizes the above quote. It is for her capacity and will to rally others to a common purpose, and her inspirational character, that she was named The 2022 ATHENA Award winner, presented by the Greater Flagstaff Chamber of Commerce.
The ATHENA Award actively supports and celebrates the ATHENA mission of supporting, developing and honoring women leaders, inspiring women to achieve their full potential—creating balance in leadership worldwide. The ATHENA Award honors individuals who strive toward the highest levels of personal and professional accomplishment, who excel in their chosen field, devote time and energy to their community in a meaningful way, and forge paths of leadership for other women to follow.
ATHENA nominees must meet each of the following three criteria:
Demonstrate excellence, creativity and initiative in their business or profession
Provide valuable service to improve the quality of life for others in their community
Assist women in reaching their full leadership potential
Amanda was nominated by her peers at North Country HealthCare, as well as some additional community leaders, who spoke of her contagious passion and her genuine care and concern for the experience of others.
Devonna McLaughlin, CEO of Housing Solutions of Northern Arizona/Sharon Manor said this about Amanda: "Mandy is a wonderful role model and mentor to me. She is insightful and supportive. She shares generously of her time, providing a listening ear and sounding board when I need help or want to run an idea past her. Mandy is honest and caring. . . . When she speaks in a meeting, I know it's critical to listen to her insight. I go to Mandy when I need to brainstorm or solve a problem to make sure I've looked at the situation from all angles and that the actions I take are correct, thoughtful, positive and proactive. Mandy's impact on my professional career cannot be over-stated. She is a true leader and mentor to female leaders in our community and a resource for those within her organization and those outside her organization."
Anne Newland, MD, MPH, CEO North Country HealthCare, shared this: "Amanda can bring people together and harness their better ideas to create something new, dynamic, and exciting."
In her role as the Community Health Director, Amanda oversees and develops community health and behavioral health programming for specific target populations. She has worked with multiple stakeholders from governmental agencies, local officials, community organizations, health departments and Tribes to educational institutions with the goal of conducting health outreach to targeted populations, as well as developing policy to achieve improved health outcomes. Amanda has over twenty years of experience working with minority and under-served populations and is a native of Flagstaff, Arizona.
Prior to working at North Country, Amanda worked with affected communities on efforts to mitigate health impacts of environmental contamination at the state health department in Oregon. She also worked in a county health department and a school district to pass tobacco policy. Her current interests focus on identifying strategies to improve health outcomes by engaging the community and leveraging existing health resources. She previously served on the boards of the Flagstaff Leadership Program and the Coconino Regional Partnership Council for First Things First and is currently on the board for Housing Solutions of Northern Arizona.
She holds a Master's in Public Health Promotion and Education with an emphasis in Women's and Minority Health from Oregon State University, a Master's in Business Administration from Louisiana State University Shreveport, and a certificate of completion from the UCLA/Johnson & Johnson Health Care Executive Program.
Amanda was nominated for the award alongside eight other women who serve in various capacities in the Flagstaff community. The winners were announced at the Chamber Annual Meeting and ATHENA Awards on Friday, February 18th 2022 at the High Country Conference Center.