$750K Included in State Budget for North Country HealthCare Graduate Medical Education
June 4, 2019 by Tammy Howell
---
Key Takeaways
What?
$750K included in state budget to recruit North Country HealthCare's first class of family medicine residents.
So What?
North Country HealthCare's family medicine residency program will train primary care physician residents throughout North Country HealthCare's service region (Coconino, Mohave, Navajo, and Apache Counties).
Now What?
Contact your local representative today and thank them for funding our medical programs and clinical rotations around the state.
---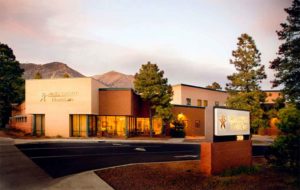 North Country HealthCare learned last Tuesday that Arizona senators included $750K in the state budget to help fund North Country HealthCare's family medicine residency program. Recruitment for its inaugural class will begin this summer, with the first four residents beginning the program in July 2020. Funding from the state is essential for the initiation of the residency program, which has limited resources due to its unique nature as a community health center-based program.
The North Country HealthCare Family Medicine Residency Program will train primary care physician residents in rotations throughout North Country HealthCare's service region of Coconino, Mohave, Navajo and Apache Counties. The program will have required rural rotations in Tuba City, Polacca and Whiteriver. This program will be the only graduate medical education program in the country with required rotations in Indian Country.
The Physician Shortage is Dire
The state's physician shortage is one of the worst in the nation. The state ranks 44th of 50 states in primary care physicians. Right now Arizona needs an additional 605 primary care physicians to address its shortage of health professionals, according to the 2019 State Health Assessment, released last month by the Arizona Department of Health Services.
"This is why we're launching our family medicine residency program," states Anne Newland, MD, MPH, CEO of North Country HealthCare. "We need more primary care physicians in our region of the state, especially in the most isolated rural areas. Northern Arizona's communities deserve to have access to the highest quality family practice physicians available; in short, we have no choice but to 'grow our own.'"
Positive Economic Impact
Recently, North Country HealthCare and the Arizona Hospital and Healthcare Association (AzHHA) commissioned an economic impact study to ascertain how Arizona's investment to combat the state's severe physician shortage would affect the economy and patient access to care. The result of the independent economic-impact study, shows "significant positive economic impact" to the state and expanded patient access to care over the next ten years.
The study, prepared by Rounds Consulting Group, Inc., shows that increasing the number of physician residents at North Country HealthCare alone will result in 136 high-paying jobs and $151.7 million in economic output for northern Arizona over a ten year period.
Community Collaboration is Key
Residency programs belong to the communities; it's an investment for the future of the community. North Country HealthCare has established key partnerships and affiliations throughout northern Arizona. Affiliated institutions include the NARHBA Institute, Northern Arizona Healthcare and Flagstaff Medical Center, Hopi Health Care Center, Kingman Regional Medical Center, Little Colorado Medical Center, Tuba City Regional Health Care, Whiteriver Indian Hospital, and Winslow Indian Health Care Center.
North Country HealthCare Thanks State Legislatures
We would like to urge our community members to please take the time to thank our legislators. North Country HealthCare would like to extend an especially heartfelt thank you to Senator Heather Carter. It is through her persistence that these initiatives were funded. Carter put forward Senate Bill 1354 to address the primary care physician and nursing shortage by providing funding for medical programs and clinical rotations around the state.
About North Country HealthCare
North Country HealthCare serves as the medical home for nearly 50,000 people throughout northern Arizona, 20,000 who reside in Flagstaff and the surrounding area. North Country HealthCare accepts Medicare, AHCCCS, commercial insurance and offers a sliding fee scale based on income and family size. If you are in need of a medical home, North Country has a large and diverse provider team and is always accepting new patients. For more information on the locations, programs and services, call 928-522-9400 or visit northcountryhealthcare.org. Like North Country HealthCare on Facebook.