Our New Online Digs
January 31, 2016 by Tiffany Tcheng
---
Key Takeaways
What?
So What?
Now What?
---
Welcome to the new North Country HealthCare website! After months in the making, and with the help of some very talented partners, we are so excited to debut our fresh look and new website features.
Let's take a tour, shall we?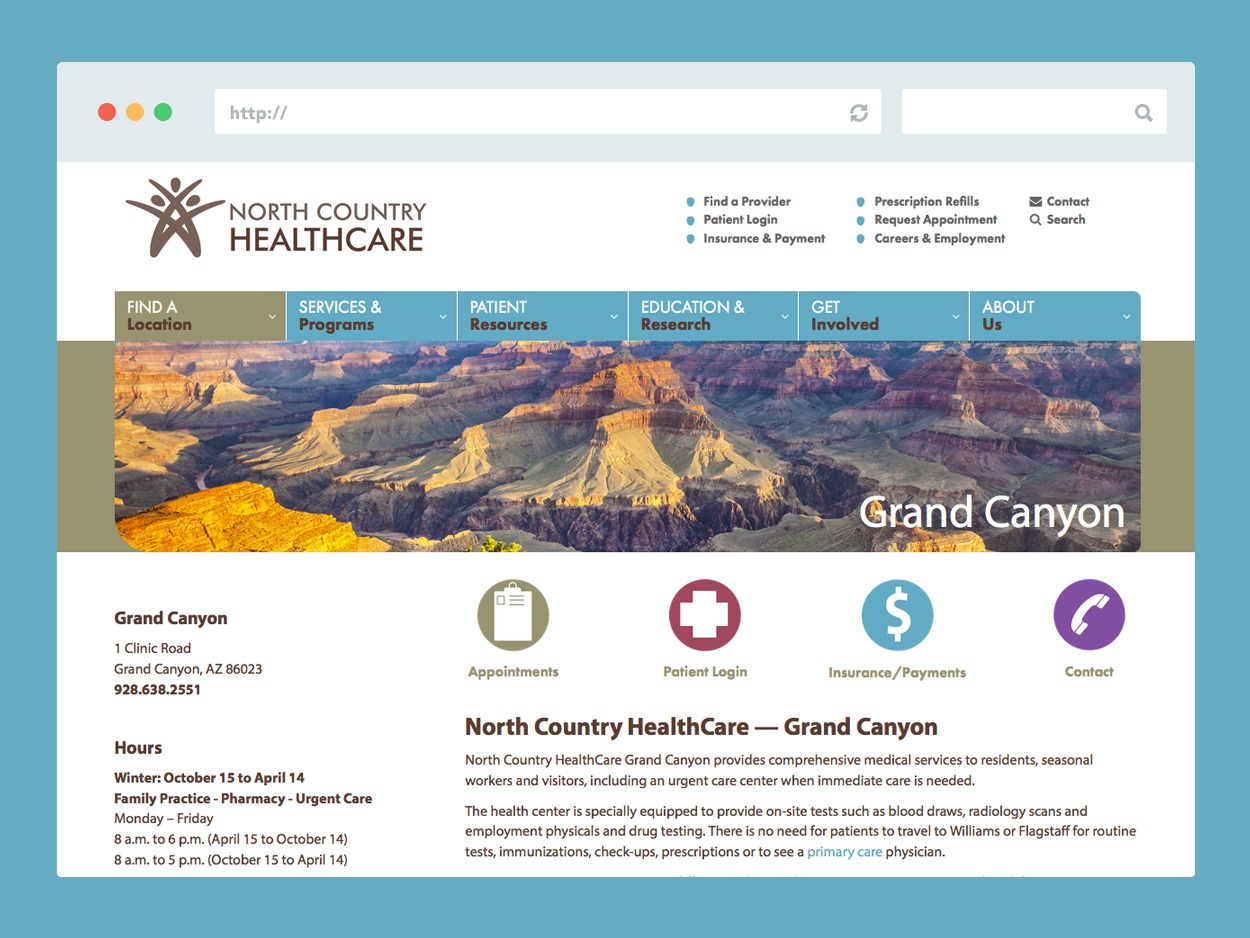 Dedicated Location Pages
One of the most-visited parts of our website are the Location pages, so we took extra measures to ensure they were carefully thought out and designed in a friendly and intuitive manner. You can now easily find location information such as address, phone number, hours of operation, services offered, community programs available, and one of our favorite features — a tab to meet your providers!
We have heard time and time again that our patients connect with and recognize providers by what they look like, so we knew it was important to display provider photos along with their name.

Provider Profiles
Speaking of providers, each North Country provider now has a unique profile that will help you get to know them a little better. We think it's important that you find a provider that is right for you, and that matches your healthcare needs. On each profile, you will find a brief bio, details about their education and training, and medical areas of interest. We hope this will ease your provider search!
Patient Resource Hub
Here at North Country, we want to be part of your family. We want you to have a great experience with us and want you to feel that you are supported and informed each time you interact with our staff. We've created a patient resource hub for this very reason.
For example, did you know that we have expert staff ready to assist you in enrolling for health insurance? Or that we have medical interpreters and translator phones available if you or your family member speaks a language other than English? It's true! There's a lot more where that came from, so check that section out.

Request an Appointment Feature
We want to make it as easy as possible for you to schedule an appointment with one of our providers. Our new request an appointment form allows you to do just that! Fill out the form, choose your location and provider, and a member of our staff will follow up with you within two business days. Of course, if your need is more urgent, you can always give us a call and schedule an appointment that way as well.

Events
North Country is very active in our local communities, whether it's hosting special health enrollment fairs, offering flu shot clinics, or sponsoring events that promote healthy, active lifestyles. We also host events at our facilities, such as support groups or meet and greets. All of these events can now be found on our events calendar.

Mobile Friendly
You can now access North Country's website from any device — desktop, tablet, or phone. The mobile responsive design adapts to your device's web browser and displays just as beautiful as on the desktop, giving you access to the important information you need.
In addition to these wonderful features, the overall look and feel of the website got a makeover, and we couldn't love it more. We hope you do, too.
As always with launching something new, we welcome your feedback and comments — both good and bad. If you see something that isn't working quite right, please let us know so that we can improve! We look forward to hearing from you.