Open Enrollment Begins Nov. 1 for Health Insurance Marketplace
October 29, 2020 by Tammy Howell
---
Key Takeaways
What?
The Health Insurance Marketplace (healthcare.gov) open enrollment lasts from November 1 to December 15.
So What?
North Country HealthCare offers free insurance assistance across northern Arizona, both in-person and over the phone.
Now What?
Read on to learn how to request your free enrollment appointment!
---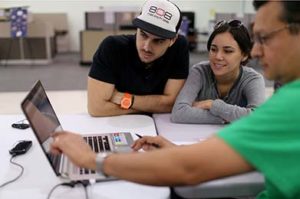 With the coronavirus pandemic causing many to lose their employer health insurance, this may be the most important year for the Health Insurance Marketplace to date. Open enrollment for the Marketplace officially begins November 1st and ends December 15th. Any plans selected during open enrollment will begin on January 1st, 2021.
The Affordable Care Act is still in place and remains "the law of the land." The individual mandate was eradicated from the Affordable Care Act in 2017, which means Americans will not be penalized for not having health coverage. However, the Health Insurance Marketplace remains open, and it offers tax credits to significantly reduce the monthly cost of insurance for most who apply.
Those who apply for coverage on Healthcare.gov will also be screened for affordable and no-cost state coverage like AHCCCS (Arizona's Medicaid program) and KidsCare (Arizona's Children's Health Insurance Program). Enrollment for those two programs is open year-round.
North Country HealthCare is here to help
North Country HealthCare has certified application counselors on staff to assist consumers in reviewing their options and enrolling in affordable insurance. For those who are already enrolled in Marketplace insurance, North Country HealthCare's application counselors can help renew coverage for 2021.
Enrollment appointments are free and available in-person or over the phone. Appointments are also available in both English and Spanish. North Country HealthCare is located in 12 communities across northern Arizona. Certified application counselors can also assist with AHCCCS, KidsCare and SNAP (formerly known as Food Stamps) applications. To schedule your free enrollment appointment, visit our Get Covered page.