8 Tips to Care for Your Mental Health During the Holidays
November 15, 2022 by Tammy Howell
---
Key Takeaways
What?
The holidays can be a time of both joy and stress as we gather with loved ones.
So What?
We offer some tips to help you preserve your mental health during the holiday season.
Now What?
Read on to learn how North Country HealthCare can support you for better mental health.
---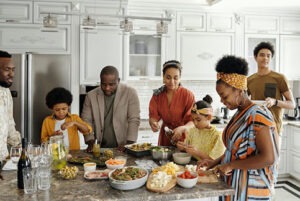 The holiday season is usually a time for joy and celebration, but it can also be the most stressful time of the year for many of us. And for those with a prevailing mental health condition, it can be especially difficult to manage during the holidays. According to National Alliance on Mental Illness, at least 64% of people with mental health issues report getting worse during the holiday season. How can you cope? Here are tips to help you better manage your mental health during the holidays instead of counting down the days until they are over.
1. Acknowledge how you feel
This is often the first step for a better mental health journey. If you're feeling overwhelmed by all the holiday brings and want to take a break, then do so. If, for reasons you can't control, you're incapable of celebrating the holidays with your loved ones and you're overwhelmed by grief and loneliness, then start by acknowledging it. It's good for your brain and your body to feel what you feel and to express it. Let your loved ones know how you feel so they can help provide support you need.
2. Make time for self-care
Sometimes during the holiday season, we put so much focus on others' needs that we ignore our own self-care. This can leave you feeling more anxious and stressed out. Self-care is important and can help you recharge, so make it a priority to take frequent breaks and just do something for yourself. Something as simple as finding a quiet place to relax, reading a book or watching a holiday movie can make a big impact. Make it a date for yourself – block time on your calendar so it doesn't get forgotten!
3. Set clear boundaries with family and friends
Most of the time we enjoy our family and friends. But sometimes, they can be a little too much and may worsen your mental health. With clear boundaries, you can enjoy the holidays without having them intrude into other aspects of your life you'd rather keep private. Start by practicing saying "no" to someone you trust, and by clearly stating what you need from them. Practicing with safe people will make it easier to set boundaries with others in the future. It's also all right to limit your exposure to the more complex family dynamics. If you start to feel uneasy, take a break to be alone, or give yourself permission to leave if you need.
4. Find a support group
Support groups are a great way to realize you're not alone. Loneliness during the holidays is quite common, especially if you are dealing with issues you haven't shared with anyone. Support groups afford you the space to talk with others who are going through a similar situation without fear of judgement or unsolicited advice.
At North Country HealthCare, we offer support groups for people in certain populations, and we may offer one that fits your needs. Our support groups include one for new mothers, HIV/AIDS support groups, diabetes population and groups of sexual assault survivors.
5. Be open to change
This year, the holiday season may be a little different from what you're used to. While families continue to find ways to celebrate amidst the pandemic, change can be overwhelming. Additionally, you may experience other changes to your holiday traditions and norms. Try to keep an open mind and be realistic about what you can and can't control. There are new traditions you can start or new ways of celebrating, including sending pictures or emails or holding Zoom meetings. Not everything has to be perfect, and that's okay.
6. Be more accepting of loved ones
If the holidays are overwhelming for you, there's a high chance others in your family and friends circle are feeling this way, too. Additionally, all members of a family may have varying personalities and behaviors. You can try to be more accommodating of their boundaries and feelings as long as they respect the boundaries you set. It's all right to bury old grievances and look forward to a good time at the dinner table. If anything needs to be addressed, maybe it can wait until after the holidays. You might also try to start an ongoing conversation with your family and friends about your mental health, and ask them how they are handling their emotions around the holidays. You may find very quickly you can be a support to one another in this season.
7. Keep up your healthy habits
We often get carried away during the holidays and forget to keep up our healthy habits. From overindulging in alcohol to eating foods outside our diets and not exercising, all these can have adverse effects sooner or later. Limit the amount of junk food you eat, and be sure to include a couple of healthy bites in your meal plan. Make time to exercise at least twice a week, get plenty of sleep, and limit your consumption of alcohol and other substances. More importantly, try relaxation techniques like yoga or deep breathing exercises. You might be surprised to find how simple actions to support your physical health can better equip you to deal with waves of stress and anxiety.
8. Let North Country HealthCare help
North Country HealthCare offers services that help preserve your mental health. Our Behavioral Health team can support you with myriad services available either via telehealth or in person. Our team members can assist you in understanding how your physical health can affect your overall well-being and how to make lifestyle changes. They are also equipped to help you address relationship issues, anxiety, depression and stress, and they can provide referrals to other agencies as needed.
Final thoughts
During the holiday season, many of us experience a mixture of feelings, both negative and positive. While this time is usually filled with joy and laughter, it can also create pressure to make everything perfect, or even stir up grief or depression. At North Country HealthCare, our integrated team can help you deal with all the holiday anxiety, stress, depression and loneliness in a healthy manner. Contact us today for more information.